If Dicamba volatility is a big issue.
Is Cado MAX the BIG Solution?
Reduced Volatility Technology
Glyphosate resistant weeds are changing how we control weeds. No longer can we depend on one mode of action. The "kill anything green with Roundup" days are over. We are looking for new solutions. One option provided to us by "Big Ag" chemical companies is phenoxy tolerant genetics stacked with glyphosate tolerant genetics.
Corteva (DOW) is producing 2,4-D tolerance crops. Corteva, Bayer (Monsanto) & BASF have chosen dicamba tolerance. Both 2,4-D and dicamba are known for off target movement, spray drift, and vapor movement. As a result, along with the genetics these companies have developed new formulations of 2,4-D and dicamba to address the off target movement concerns. These new formulations are mostly centered on decreasing volatility as drift reduction has long been addressed with application technology such as low drift nozzles and drift reduction adjuvants.
One of the first surprises with the development of "Double Stacked" phenoxy + glyphosate tolerant genetics was the removal of AMS as the main water conditioner for glyphosate in any tank mix that included dicamba. AMS in the tank increases dicamba volatility. AgraSyst develops AMS replacement adjuvants like, Full Load that work better than AMS and do not increase dicamba volatility.
Following our research into reduced volatility we invented Cado MAX™. Cado MAX™ will reduce dicamba volatility and 2,4-D salt volatility by 60% to 80%.
We followed our progress by using a greenhouse "Box Test." Exposing soybeans or tomatoes to vapors coming off herbicide solutions placed inside a box. Phenoxy epinasty ratings 0-10 were used to document results Figure 1.
Standard Greenhouse Box Test, petrie dishes contain herbicide solutions with bioassay plants.
Clarity Vapor damage Box Test
Clarity + Cado MAX Vapor damage Box Test
Cado MAX™ works with any formulation (Figure 2). Cado MAX™ works with multiple chemistries—not just phenoxies. Use rates are around 1 qt. per 100 gallons of spray solution. The higher the spray volume, the higher the Cade MAX™ use rate. The quart rate is for a 10 gallon per acre spray volume.
Bob Hartzler, an Iowa State weed Scientist, defines dicamba as a weak acid herbicide. "Chemists refer to them as parent acids. In this state, a hydrogen ion is held to the dicamba molecule due to opposite charges of the two molecules. Most herbicide formulations substitute a salt for a hydrogen ion on the parent acid to boost compatibility with hard water and tank-mix partners. This also reduces dicamba volatility."
This means that dicamba salts are more water soluble than dicamba acid and easier to formulate. And Dicamba acid wants to volatilize or as most field agronomist say —"Sooner or later dicamba is dicamba."
Dr. Hartzler goes on to quote a Bayer scientist: "The degree of (dicamba) volatility reduction depends on the salt, the pH of the spray solution, and the pH of the spray droplet residue."
Of course these explanations are over simplifications of the many factors that influence the volatility of a weak acid herbicide like dicamba.
A major factor that seems to be neglected is: Dicamba does not really like being in water. Big spray droplets while reducing drift potential likely increase the potential for dicamba volatility.
To illustrate this issue dicamba applications were made on glass plates using different spray nozzles producing larger and larger spray droplets. The plates were then placed in a box test. Increasing droplet size and therefore spray volume, increased dicamba volatility damage dramatically (Figure 3).
Bigger spray droplets and slower drying times likely increase the volatility potential of dicamba. Heavy dew, re-wetting events, high relative humidity, and slower drying times are also likely to cause increases in dicamba volatility potential.
To illustrate this point glass plates covered with wax paper were sprayed with dicamba and placed in a box test. Sprayed plates were allowed to dry, then re-wetted by misting at 1 and 2 days after application and then put in a Box Test (Figure 4).
Dicamba volatility damage occurred with each rewetting event. An important point is that Cado MAX™ cut the volatility damage with each wetting event indicating that Cado MAX™ vapor reducing technology Reactivates with Moisture.
Cado MAX™ technology is focused on the environment of the spray solution and especially on the environment of the spray droplet and/or moisture from a re-wetting event. Cado MAX™ works by creating an environment in the spray solution that is more compatible to the dicamba molecule, making the spray solution a "happier" place for dicamba to stay.
At AgraSyst we have a saying:
"It ain't So until it's SO outside"
Cado MAX™ is "SO" outside.
Field test were conducted from North Dakota to Texas. Glyphosate tolerant corn was sprayed with glyphosate plus dicamba (Clarity) adjacent to non-dicamba tolerant soybeans. Dicamba damage was then measured by epinasty ratings. Cado MAX™ reduced the severity of dicamba injury via volatility by 85% (Figure 6). Cado MAX™ reduced the distance of dicamba damage away from the original application via volatility an average of 87%. Cado MAX™ reduced the severity of "Off Target" drift and vapor by 61% and distance by 59% respectively.
Cado MAX worked well outside even though it did not pass the EPA's drift reduction test. This can be an issue as things out side are hard to model based on inside data. However, the inside data suggested that drift reduction would be substantial with Cado MAX, see the table below.
This work was done with nozzles that produce droplets in the size range of 200 microns to 600 microns. This is the droplet range that give the best efficacy of most herbicides. Drift reduction with large droplets show the same tendency (Figure 7).
The practical significance of this is that if you use Cado MAX to reduce volatility you get the added benefit of reduced drift potential regardless of what size spray nozzles you are using.
Cado MAX™ appears to be compatible with most tank mix components. We have not found compatibility issues to date. Use Rates: 1-4 pints per 100 gallons of spray solution. Most normal applications (10 gallons per acre) 2 pints per 100 is a good rule of thumb. As spray volumes increase a grower may want to increase the use rate.
The introduction of new technology is always a challenge. Cado MAX™ offers us a whole new tool for application technology.
We are still surprised with how well it performs—even with the notorious volatile 2,4-D ester, Cado MAX™ reduces volatility (Figure 8).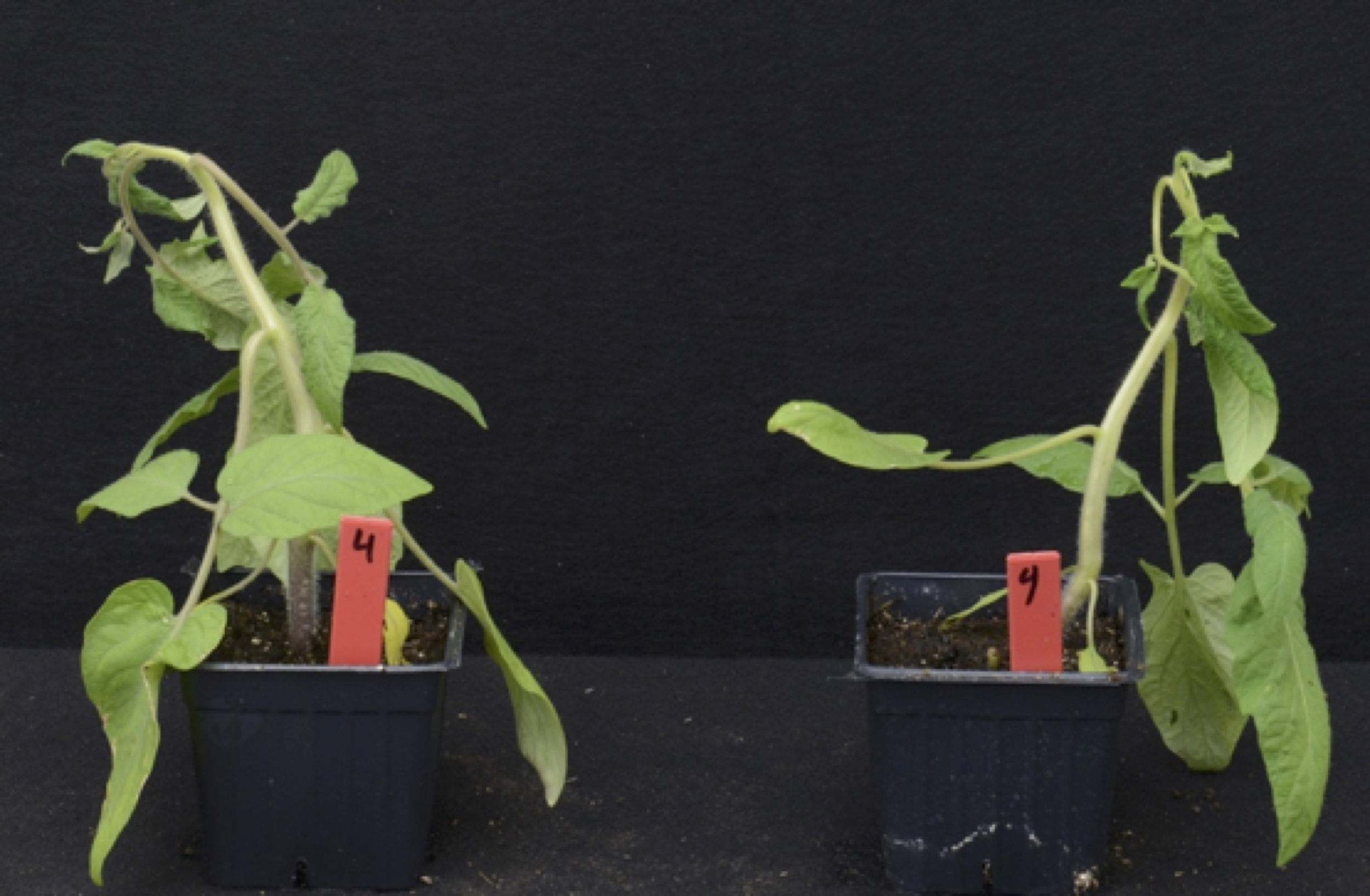 Greenhouse Box Test Figure 8.
2,4-D LV6 0.5lb/A+Cado MAX 0.5% v/v
Greenhouse Box Test Figure 8.